About American Ag Video Ag Auction
American Ag Video Auction is an online hay marketing company that streams live, real-time auctions. We go to a producers farm or ranch, video and test their hay, then market it worldwide online. We utilize the live real-time video auction platform which creates instant market competition to sell your hay. We are committed to building lasting relationships with our buyers and sellers. Providing an innovative and professional way to market hay, while expanding and creating market opportunities worldwide.
Who we are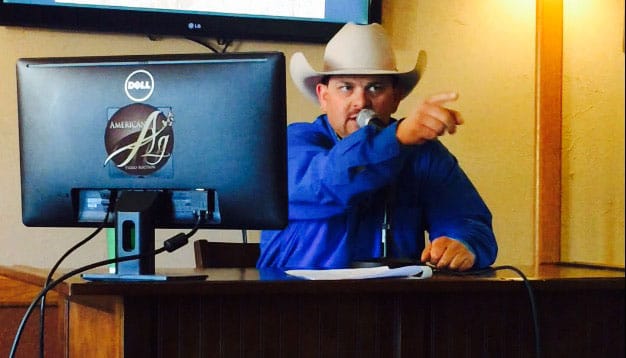 Tom Baer
Owner, Auctioneer, Hay Representative
Tom has been involved in the hay industry all of his life, he was born and raised on a beef, dairy, and hay operation. For many years he was in charge of running the family dairy doing the daily milkings, genetics, and haying.

Tom was taught to understand the value of hard work, as well as the in's and out's of nearly every aspect of agriculture with focus on the hay industry. This gave Tom first-hand experience on planting, irrigating, cutting, raking, baling, hauling and feeding hay. At the age of 17 years old Tom and his family started a custom hay business in Northern California. His family was the first to bring fully wrapped square bales to the area. While running the custom hay business Tom quickly realized there was a bigger need to market hay beyond their local markets. Creating American Ag Video Auction has allowed Tom to use his self-taught auctioneering skills, industry knowledge, and passion to create nationwide markets. This business to Tom is far more than simply consigning and auctioning hay it's about being committed to understanding customer's needs, creating long term relationships, and a reliable worldwide market place for hay.